J'applique l'essence de la technique de David Allen depuis septembre environ, en me fiant à cent pour cent à Dates et Tasks pour mes besoins d'organisation. Je peux dire que je ne regrette pas d'avoir lu Getting Things Done (j'ai fait un review plus complet de ce livre dans le numéro 2 du Psy-chose, si vous ne savez pas de quoi je parle).
Bon jusque là tout baigne, on le sait Jeff, alors pourquoi tu blogues? En fait c'est simplement que ce matin, j'ai retrouvé une image SVG datant de vendredi le 03 août 2007, qui est en fait une carte heuristique (un plan mental) de toutes les choses que j'avais à faire à la fin de l'été dernier.
Dans l'image ci-dessous, c'est la fenêtre de gauche, alors que ma liste de tâches actuelle (contenant 128 tâches en date d'aujourd'hui) est juxtaposée à droite.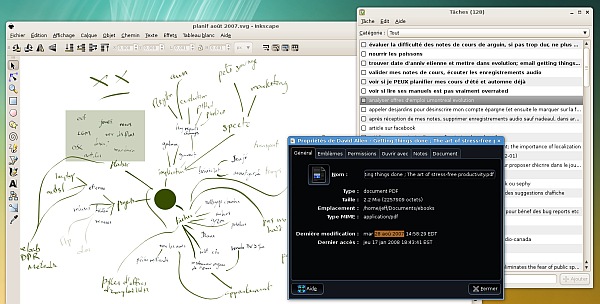 Bon, l'image en soi n'a rien d'impressionnant. Ce qui me fascine, c'est de voir que j'ai encore une trace de comment je pensais il y a environ six mois, et que, à la différence de maintenant, je me souviens avoir réalisé ce schéma en ayant un sentiment de dépassement et de manque de temps. Aujourd'hui, j'ai plus de 100 tâches dans Tasks depuis des mois (généralement au-dessus de 140), et pourtant je ne suis pas angoissé. Ça doit être ça, GTD: une thérapie psychanalytique de notre façon de travailler et gérer son temps.
Branding
strategist and business developer, free & open-source software UX designer and experienced community manager. Has unlimited hi-HP potions to keep teammates alive.
You can check out my
main website
or find me on
G+
or
Twitter
.