J'ai retrouvé dans mes notes tomboy une idée que j'avais eue, datant de deux ans, d'un concept de logiciel pour gérer ses tâches. Ça fait tout drôle de tomber là-dessus deux ans plus tard alors que j'ai découvert le merveilleux, voire parfait Tasks.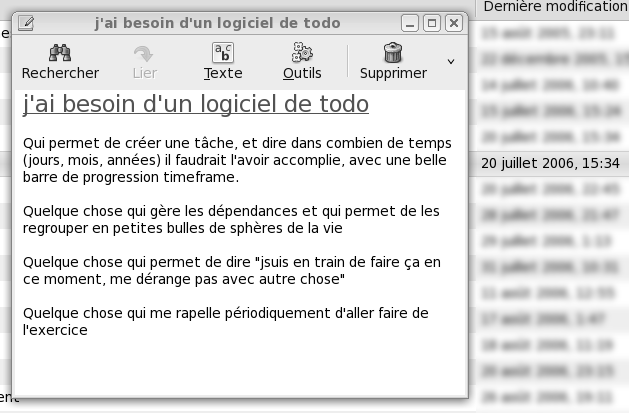 D'autant plus qu'après avoir lu Getting Things Done, je me suis rendu compte que Tasks est capable de gérer le langage humain pour permettre d'entrer des items à la vitesse de l'éclair tout en les triant du même coup. Par exemple, au début du résumé de la tâche à entrer, si on met «+» ou «-», ça spécifie la priorité. Si on ajoute un mot @machintruc, la tâche nouvellement créée fera partie de la catégorie «machintruc».
Et même, la version SVN a maintenant la capacité d'entrer certaines dates directement, en anglais seulement pour le moment. Tasks peut donc interpréter «today», «yesterday», «tommorow», «this [jour de semaine]»
et «next [jour de semaine]».
Branding
strategist and business developer, free & open-source software UX designer and experienced community manager. Has unlimited hi-HP potions to keep teammates alive.
You can check out my
main website
or find me on
G+
or
Twitter
.