Je suis retourné voir la page de Gentoo Wiki HOWTO Monitor your hard disk(s) with smartmontools pour savoir comment être averti à l'avance d'une éventuelle mort de disques durs de Kirika (mieux vaut prévenir que guérir)… Et qu'est-ce je trouve? La page a disparu, et à la place j'ai:
Gentoo-Wiki recently had it's database lost;
Oh, the irony.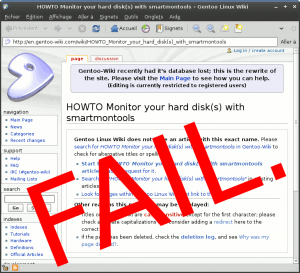 Branding
strategist and business developer, free & open-source software UX designer and experienced community manager. Has unlimited hi-HP potions to keep teammates alive.
You can check out my
main website
or find me on
G+
or
Twitter
.