Since hell is freezing over today, I've been nailed to my chair to prepare a new Specto release, at last. Uploaded packages, checked release notes, and reworked the website. Now, 0.3 RC1 is available for the masses, go test it! If no significant problems are found, this will become Specto 0.3 final. Special thanks to Wout Clymans for working so passionately on this release for over a year.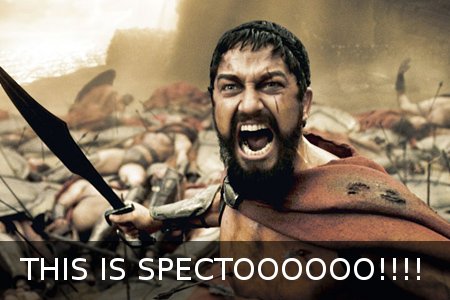 Specto is a free and open-source desktop application that will watch configurable events (such as website updates, emails, file and folder changes, system processes, bazaar branches, etc.) and then trigger notifications.
This is a "release candidate" for the 0.3 release. It is considered stable and feature-complete and is intended for last minute testing and to allow you to send us your translations. If you are proefficient in your native language, please help by translating Specto into your language. It is fun, easy, and you get your name in the translator credits. Instructions are available on this page.
Upgrading to this release is strongly recommended, as it solves a huge amount of issues reported in the 0.2.x series, is more stable, implements new features, is more secure and easier to maintain.
This release contains lots of architectural changes. The watch system is now a plugin system, the watch list has changed, GNOME keyring is now used for encrypting passwords by default (though you can disable it), and the configuration/cache directories are now based on the XDG user directory specification. As such, you will need to import your watch list if upgrading from Specto 0.2.x.
Updated packages for Ubuntu are already available on our download page, and might also appear in Ubuntu's universe in time for 9.04. If you want to provide packages for your favorite distribution, feel free to contact us.
What is new in this release: see the release notes
We are a volunteer project, free "as in beer" and free "as in GNU GPL v2", and contributions are very welcome. If you like this software and want to fix annoyances that itch you, we value all the help we can get. You don't need to be a hacking guru! [see contributing page].