After much bikeshedding, I delved in Specto's code for a few hours this morning to get it working with Ubuntu 9.04's controversial notification system daemon. The ability to set notification durations is now gone, and Specto only displays actions in the notifications if they are "allowed". This should not impact users of vanilla libnotify. If people complain, it's all Ubuntu's fault now :)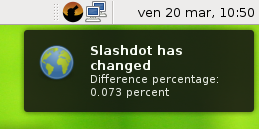 As you may have noticed, I have made some subtle changes to the actual contents of the notifications. The notification summary is now a proper summary with the watch name instead of "Specto", and this means we put less "redundant stuff" in the actual "long description".
Overall, this whole "conform to notify-osd" issue had a positive side-effect: it kicked my ass into actually doing the content cleanup I had on the back of my mind for quite some time.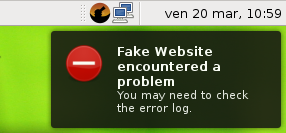 When the notifications are not attached to the tray icon anymore, messages like this one become glaringly wrong: their uselessness becomes quite apparent. I therefore filed bug 221.
All these changes are currently available for testing in my personal Specto branch. Translators will need to update some strings (mainly just remove obsolete stuff), so please send your updated translations for them to be included in Specto 0.3 final.