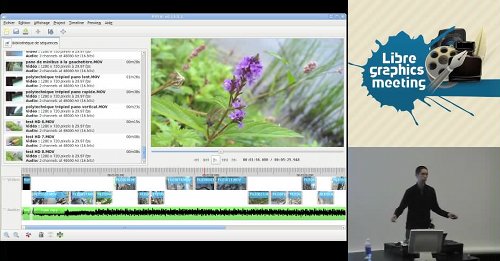 Comme prévu, j'ai donné une présentation sur PiTiVi au Libre Graphics Meeting 2009. L'enregistrement vidéo est maintenant disponible. Idéalement, ceci permettra de diffuser un peu la connaissance du projet que j'ai accumulé depuis 2005 et de permettre une meilleure compréhension de son histoire développementale. À la fin de la présentation se trouve une démonstration en temps réel et une présentation de vidéo "résultat fini".
J'ai également donné une présentation surprise (sous forme de lightning talk) à propos du design de présentations.
Les diapositives utilisées dans mes présentations sont sur ma page personnelle.
N.b.: pour ce qui est des enregistrements vidéos, notez que la manque de fluidité à l'écran n'est pas dûe à un manquement de performance de mon netbook ou de PiTiVi, mais bien un problème causé par l'enregistrement de la vidéo avec un espèce d'adaptateur VGA à 9 images par seconde. En effet, la lecture des vidéos était parfaitement fluide lors de la présentation.
Branding
strategist and business developer, free & open-source software UX designer and experienced community manager. Has unlimited hi-HP potions to keep teammates alive.
You can check out my
main website
or find me on
G+
or
Twitter
.