J'avais depuis longtemps en tête l'idée d'avoir un bureau à hauteur ajustable, surtout après avoir lu les excellents articles de Joel Spolsky sur l'environnement de travail de FogCreek [1] [2].
Mon bureau précédent, avec son manque d'espace singulier: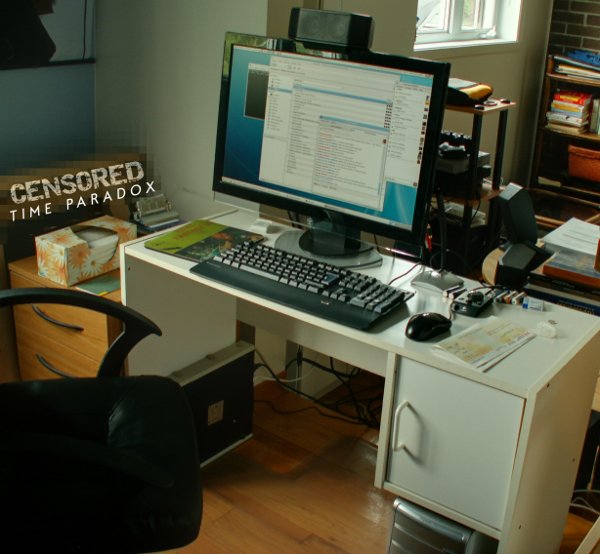 Censure: il manque une table à l'emplacement où se trouve un tréteau. Snake! You can't do that! The future will be changed! You'll create a time paradox!
Comme je ne suis pas encore au point de faire voyager mes minions en première classe, je n'ai pas cherché à avoir un bureau motorisé et aussi geek que ceux de FogCreek. J'ai plutôt opté pour la solution bon marché: tréteaux ajustables IKEA et un plateau de 2 mètres de long pour aller dessus (aussi pris chez IKEA, parce que plus joli et robuste que ce qu'on trouve en quincaillerie, malgré son prix élevé). Coût total: 160$. Mon espace de travail a maintenant l'air de ceci: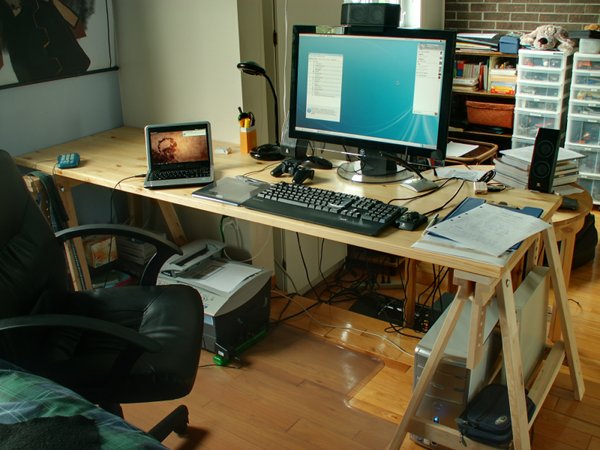 Avantages:
J'ai de la place: tout mon matériel peut enfin être posé sur une seule table, l'écran peut être placé plus loin (profondeur de 60 cm au lieu de 40 cm), je peux avoir ma tablette graphique, micro, et Kagami présents à temps plein sur le bureau
Permet le travail collaboratif (contrairement à un bureau en coin; voir les articles de Joel Spolsky)
Beaucoup plus solide que mon installation précédente (ne bouge pas facilement, et le plateau est plus épais, il ne courbera certainement pas)
Plus d'espace pour les jambes, et les tréteaux ont également une fonction de rangement
Hauteur ajustable
Facile à déménager (le plateau est simplement posé sur les tréteaux, donc c'est que trois pièces à prendre dans ses bras)
Beaucoup plus classe
Mon plan diabolique potentiel est d'avoir un deuxième bureau identique quand on déménagera. Ainsi, je pourrai avoir énormément d'espace de travail (4 mètres!) et la possibilité d'avoir les deux bureaux ajustés à des hauteurs différentes (un bureau pour travailler debout, par exemple).
Il est toutefois impossible de faire entrer une tour d'ordinateur (mid tower) sur l'étagère des tréteaux (du moins, pas dans le sens conventionnel). C'est plutôt dommage, j'ai donc enlevé deux des barres et ai posé Kusanagi sur le sol.
Photographies HDR réalisées avec Enfuse, comme toujours.
Branding
strategist and business developer, free & open-source software UX designer and experienced community manager. Has unlimited hi-HP potions to keep teammates alive.
You can check out my
main website
or find me on
G+
or
Twitter
.