Une chose importante à savoir par rapport au remplacement de pile d'une montre Casio G-Shock: portez une attention particulière au ressort minuscule (celui qui nécessite des pincettes auto-pinçantes, une lampe de spéléologue et énormément de patience/frustration). En effet, il est très, très facile de remonter le tout à l'envers, parce que le couvercle possède un cercle de taille identique à la pile: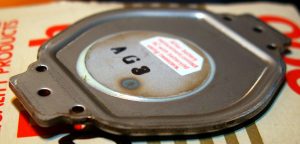 On a donc le réflexe de croire que « tonnerre de Brest, ce truc devrait s'aligner sur la pile, pourtant ». Ah-ha. Erreur monumentale. Sur une montre Casio G-Shock (je présume que sur les autres types de montres aussi), la règle est la suivante: si les inscriptions à l'endos de la montre ne sont pas dans la même orientation que l'affichage de la montre, you're doing it wrong.
Donc, en somme, pour placer le couvercle correctement, il faut forcément que les deux « cercles » (la pile, et le gros truc sur l'intérieur du couvercle) ne soient pas alignés. Ce qui m'a beaucoup fait WTFer. C'est comme ça.
Et ainsi, à l'aide du caoutchouc troué allant entre la montre et son couvercle, on découvre que le petit trou « AC » (pas « AL », comme j'avais cru lire au début) est un piège. C'est pas là qu'il faut placer le ressort (en fait, ce trou sert à réinitialiser/court-circuiter la montre!), mais plutôt dans le trou opposé (dans mon cas). Pas comme ceci:
Mais plutôt comme ceci (la photo a été prise dans le même angle):
Fiez-vous au caoutchouc troué pour déterminer où va le ressort (l'encavure circulaire dans le caoutchouc n'est pas pour la pile, mais bien pour le machintruc du couvercle):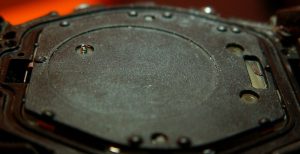 Voilà pour ma découverte du soir. Ça faisait près d'un an que j'avais « démonter ma montre à nouveau, les bips/sonneries ne fonctionnent plus » dans ma liste de tâches.
Mes sources d'inspiration pour me rendre compte que j'étais dans l'erreur: ceci, qui m'a mené à cela.
Branding
strategist and business developer, free & open-source software UX designer and experienced community manager. Has unlimited hi-HP potions to keep teammates alive.
You can check out my
main website
or find me on
G+
or
Twitter
.