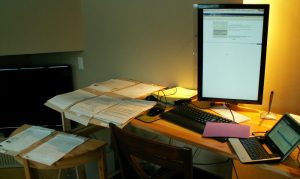 Update sur ma vie (ou absence de). Durant l'hiver, j'ai passé environ trois ou quatre mois à faire mes demandes d'admission pour le doctorat en psychologie dans six universités québécoises. La partie la plus longue n'est pas de remplir les formulaires, mais de rassembler les kilos de documents et références nécessaires, de se conformer aux règles hétérogènes des universités, et surtout, pourchasser des professeurs qui accepteraient de me diriger pour un essai doctoral (ou une thèse).
En tout, selon les statistiques de Hamster, de novembre à février, j'ai consacré plus de 130 heures à la maison à faire tout ça (ce qui exclut mes déplacements pour entrevues avec les professeurs ou autres).
Bien que j'aie eu un professeur m'appuyant dans toutes les universités où c'était nécessaire, un bulletin de notes arborant une moyenne de 3.6/4.3 (j'avais 3.7, ça a diminué) et un CV de président, ça n'a pas marché. Cinq universités m'ont refusé sèchement, et la dernière m'a placé sur une liste d'attente (42ième, alors qu'il y a 10-15 places disponibles…).
Bref, il vient un temps dans la vie d'un étudiant finissant où on pèse le pour et le contre de l'acharnement. C'est mon cas. Je ne regrette pas mes études en psychologie (et franchement, c'est fascinant comment ça change la façon de voir les choses), et je peux fièrement dire que j'ai essayé. Maintenant, s'acharner pour «tenter» de réussir à éventuellement passer dans l'entonnoir de l'admission, pour se taper cinq autres années d'études et ensuite déboucher sur le marché du travail (et peut-être avoir des surprises), peut-être pas, finalement.
Ainsi, je me suis inscrit au Certificat en administration pour l'année qui vient. Ceci risque, ironiquement, de me rapprocher potentiellement de mes intérêts de geek; ces dernière années, ma passion du logiciel libre, du design et de la gestion de projets ne s'est pas éteinte. J'ai quelques plans de tenter de rejoindre le domaine (dans un monde parfait, rempli de poneys et d'arcs-en-ciel), d'autres plans alternatifs, et au final beaucoup de spéculation quant à mon avenir. Je verrai bien où ça m'amène dans un an, moment à partir duquel je devrai avoir acquis mon autonomie.
Branding
strategist and business developer, free & open-source software UX designer and experienced community manager. Has unlimited hi-HP potions to keep teammates alive.
You can check out my
main website
or find me on
G+
or
Twitter
.