I don't know how many sketchers there are out there, but I thought this might interest some photographers and imaging geeks. A while ago, I posted this question on Ask MetaFilter:
Why do flatbed scanners seem to have so little dynamic range for sketches? I draw for fun, usually with a 0.5mm mechanical pencil. I do not put a lot of pressure onto the pen because it allows for more details/subtle shading. When I scan the images, the "light" details are always blown out and no amount of fiddling xsane's settings (gamma, brightness, contrast) seems to reveal them. […]
The best I could do with a scanner was to ensure I scanned in 24-bit color before converting to grayscale (instead of scanning in grayscale directly). The resulting image was slightly better, but not that much: a lot of detail was still missing. I guess generic flatbed scanners are made to scan text and photographs, not fine lineart. A powerful cold-cathode light at 1 mm of the sensor is not exactly subtle.
Your average photo camera doesn't have this problem, because it has a better dynamic range and you can control the lighting. However, sketches require even lighting. Achieving this is hard. You can't set-up your gear quickly and effortlessly.
Enter the ring light.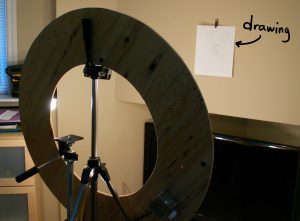 I used the same method as this tutorial, albeit slightly modified:
I made holes on the sides of the "plastic lampholders" so that the wires could come through the sides, instead of having the wires come through the plywood. Safer, more robust, and easier to rearrange if I change my mind.
Since I didn't want to make a custom tripod mount, I simply stuck the ring between two notches of the tripod mount and let the tripod rise to full height.
The results are stunning.
On the left: scanned with a flatbed scanner. On the right: shot with a camera and ring light and post-processed with GIMP (cropped, converted to grayscale and levels correction). It takes longer, as you still have to set-up your tripods, take the picture and post-process in GIMP (instead of simply hitting the Scan button), but you get a much richer output.