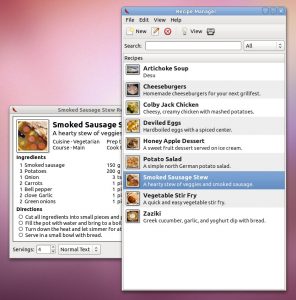 Three years ago, Daniel Taylor (of Arista fame) made a small application designed to store and manage your favourite recipes. It was simple, lightweight, elegant. He called it Recipe Manager (got a better, unique name, anyone?) and released a "technology preview" along with the file format spec onto this website. I was pretty excited and thought "I'll definitely come back and have a look at this when it matures a bit". Except that… this project wasn't announced anywhere else than a post on Gourmet's mailing list and a thread in the Ubuntu Forums (as far as I can tell).
Fast forward to 2010, and this project has been kept mostly hidden in the depths of the Internets, like a treasure buried on a desert island. I'm pretty sure that nobody but a handful of people knew of its existence.
This stops today.
Since I have to actually learn cooking someday, I contacted Daniel a few weeks ago and suggested we revive the project:
Put a proper project infrastructure in place (I chose Launchpad for simplicity and various other factors)
Fix some of the glaring bugs
Release this awesome piece of software onto the world, so that others may benefit from it.
Recipe Manager is written in Python, doesn't have a zillion features, and the code is quite clean (I even made it PEP-8 compliant, except line lengths). I am certain that you bunch of hungry hackers would love to use this app and fix a couple of bugs (or implement new features!) along the way. The app is already in a working state. It is beautiful, elegant and simple. I wouldn't hesitate to have my family members use it.
We need your help. Our time is limited, and my Python skills are limited too. I already filed a couple of bug reports and blueprints ("big" feature requests), which are mostly low-hanging fruit that a seasoned hacker would fix in two minutes, or good learning experiences for those wanting to learn Python.
Get started:
bzr branch lp:recipe-manager
bzr branch recipe-manager my_branch
cd my_branch
# hack hack hack
bzr commit --fixes lp:bug_number
Then push your branch onto Launchpad and let us know about it:
bzr push lp:~your_username/recipe-manager/my_branch
(You can push it anywhere you want. Got your own web server/website? Just push it there and make sure the .bzr folder is accessible, and we can pull from it)
Currently, I'm mostly doing project management tasks. I was planning to release when the bugs I targeted to the "0.4" milestone would be fixed but… Hey, why not allow early adopters to test it out (and fix bugs, while we're at it) before releasing?
Now go. Run it. Hack it. Cook it. Love it.