Part of the PiTiVi Love list, Mathieu Duponchelle has implemented a "welcome screen" (also known as "Startup Wizard"). It is a great little feature which uses GTK Recent to automatically show the last few projects you were working on, so you can open them with two clicks (or by pressing Enter):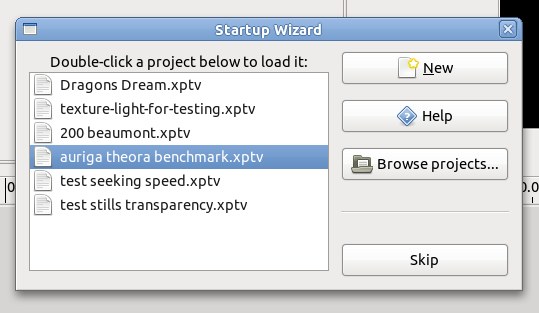 You wouldn't believe how often I start-up PiTiVi and load the same projects over and over again for testing. This feature, now merged in the main development branch, makes my job easier.
I carefully designed this dialog so that it made the workflow more efficient, not less (unlike some "stupid" wizards I've seen over the years). It should really have been named an "Assistant" or "Welcome" screen, because it's not a linear druid/wizard. I would personally not have included a "Skip" button (see the bug report for the reasoning), but hey, we're not that short on space (and this button will probably prevent me from being assaulted by angry geeks).
Update: I have made an attempt at an alternative implementation here. It looks like this: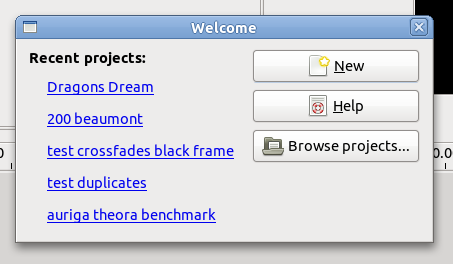 It solves some problems (you don't need to double-click anymore), but I can't figure out how to sort by "most recently used" (RecentChooser has a method for it, but not RecentManager doesn't). Sorting manually in another loop sounds like a performance disaster. And frankly, I don't know which looks better anymore: the linkbuttons approach or the recentchooser widget.
Update2: a blend of the two (probably what will happen):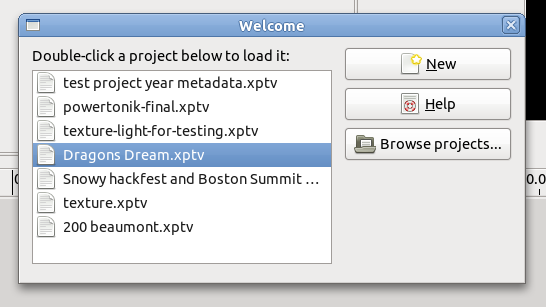 Stay tuned for some very interesting features that Mathieu has been working on lately…