We had implemented a working (only needed some UI polish) Youtube importer for PiTiVi: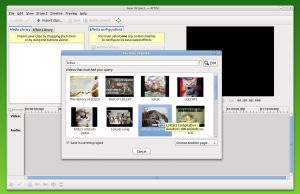 …but Youtube asked us to "bring [our] application into compliance with the ToS", which roughly translates to "take it down", because their API Terms of Service clearly forbids any kind of downloading.
This situation, of course, annoys me deeply on a philosophical level. In that comment, I argued in favor of a fair use-friendly resolution, and think I offered reasonable choices for potential solutions.
To this, I add the following argument: Youtube would probably benefit, on an economic standpoint, from letting us make a video importer. I argue that those who use a video editor's built-in Youtube importer feature are more likely to be using that feature in order to make mashups (cultural remixes) and post them right back onto Youtube, generating more revenue.
But it seems it has come to this (the last solution): convince Youtube to change their Terms of Service. In my humble opinion, the enforcement of draconian "culture-unfriendly" terms like these onto our open source project seems pretty much in contradiction with the "do no evil" mantra.
We don't have much choices here. If you want to be able to import from Youtube into PiTiVi, then you need to let your voice be heard in the Youtube API forums so that there is known demand for a saner, user-centric API ToS. As Mr. Wilkiewicz suggested,
[…] share your experience with the YouTube developer community at :
http://code.google.com/apis/youtube/forum/
Branding
strategist and business developer, free & open-source software UX designer and experienced community manager. Has unlimited hi-HP potions to keep teammates alive.
You can check out my
main website
or find me on
G+
or
Twitter
.