It's no secret that PiTiVi's "project settings" and "rendering" dialogs were huge, rigid, and, as Linus would have called them, stupid and ugly:
…Until now, that is. Say hi to one of the most invasive and anticipated refactoring/set of bugfixes of the year: Brandon's new templates/project settings/rendering system (which he blogged about recently [1] [2] [3] [4] [5]), based on the 2nd version of my mockups from 2009, with some minor UI fixes coming from my own git repo.
This is MASSIVE. The git log doesn't do justice to the amount of work that Brandon has put into this. Here's a vague attempt at expressing the epic, all-encompassing, jaw-dropping nature of those changes:
The changes that were merged just now: 37 files changed, 2719 insertions, 1724 deletions
The project scales back as far as october 2009, if you consider the previous attempt, which was: 19 files changed, 1429 insertions, 415 deletions
This is one of those "unsexy" architectural changes you have to do in order to significantly improve an application and expand its capabilities.
So, how does it look like, now?
Project settings
This where you set the global settings in your project (so that the previewer widget knows the proper resolution and aspect ratio to use, among other things). What you set in this dialog will be used for the rendering dialog as default values. You can create your own presets (like I did here) and use esoteric custom framerates.
We don't ship presets by default, but probably will one day (need someone to implement that, patches welcome).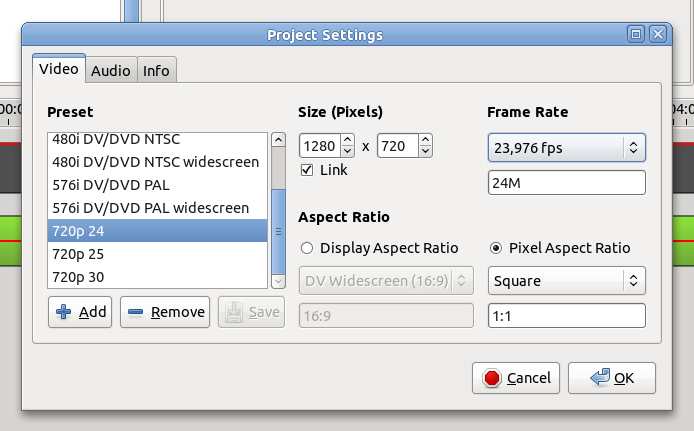 Rendering dialog (basic settings)
Here you can choose the container format and the video/audio codecs to be used for rendering. The resolution and framerate are based on the global project settings, but you can override them and say, for example, "render my 720p24 video at 12 frames per second and 25% of its resolution" for a quick preview/test.
I do that all the time while testing, and the new rendering workflow is a life saver.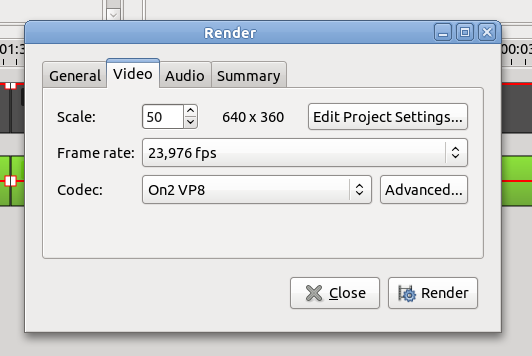 By the way, I discovered that the scale is not limited to "100", you can actually go up to 9999. Some may consider this a bug, I consider this a feature.
Rendering progress dialog
Progress is now shown in a separate dialog. Yes, you can now pause and resume rendering. No, the "frames per second" and "estimated filesize" stats are not actually implemented yet (patches welcome).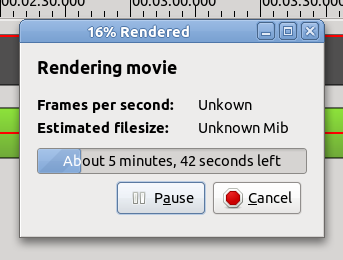 Look forward to this in the next release.
Branding
strategist and business developer, free & open-source software UX designer and experienced community manager. Has unlimited hi-HP potions to keep teammates alive.
You can check out my
main website
or find me on
G+
or
Twitter
.