…is surprisingly low. Unlike what some people would make you believe, GNOME Shell & friends don't eat 883 MB of RAM. As you can see below, baseline memory usage is under 120 MB… And you know what? That's less than the amount of memory that GNOME 2.30 uses on startup on Ubuntu 10.04 LTS (127 MB+ even if you cut down on some useless services).
My five-years-old "frankensteined" machine (512 MB of RAM, broken keyboard, broken CPU fan, broken touchpad) runs GNOME Shell perfectly fine for typical daily usage*, thank you: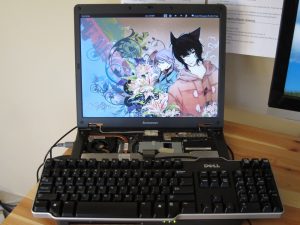 *: of course I won't run virtual machines and HD video editing and tons of concurrent apps on 512 MB of RAM, but that's to be expected.
Branding
strategist and business developer, free & open-source software UX designer and experienced community manager. Has unlimited hi-HP potions to keep teammates alive.
You can check out my
main website
or find me on
G+
or
Twitter
.