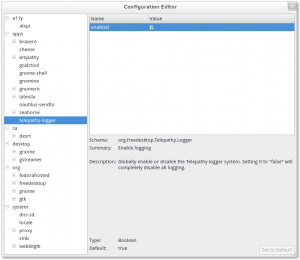 A question has been bugging me for some time: what's the reasoning behind the dconf hierarchy/naming scheme as can be seen in dconf-editor?
org.gnome.*, org.gtk.*, ca.desrt.*, org.freedesktop.* … okay, I get that those are meant to look like reversed URLs, that part makes sense… but not as much when you have desktop.gnome.*, desktop.gstreamer.*, apps.*, a11y.*
Here comes the  fun part:
Why is gnome-shell in "apps" but not in "org.gnome" like most of the other core apps? …oh wait yes it is also there, but this time it's named "shell"!
Why are "proxy", "smb", "webkitgtk" and such present in "system" whereas "power-manager", "packagekit", "login-screen", "bluetooth", "screensaver" are not?
org.gnome.desktop.a11y exists (just to complement the toplevel "a11y" tree, you know), just as org.gnome.desktop exists to complement desktop.gnome
Etc.
Where is the consistency and how are users and developers expected to know where to find what? I must be missing something (except aspirin)… please enlighten me.
The fact that you would need a search interface is a bad sign. Just try to find how to reset your font settings in less than two minutes and twenty clicks, I dare you.