Now that we've gotten rid of a ton of code in Pitivi (thanks to the port to GES), Thibault has been doing an incredible job at cleaning and reorganizing the remaining source files in a way that finally makes sense. I'm very happy about this: it means that it will not only make it easier for new contributors to get started, but also for regular contributors to not get lost in the various modules.
Behold, before (left) and after (right):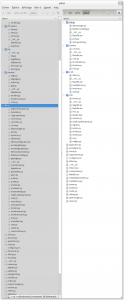 The old file tree was so big that it did not fit on a rotated 1920×1200 monitor, even with Nautilus fully zoomed out. Note that the tests/ directory is not shown here, it went from 33 test cases to 18 and now runs in one second (since the core tests are now in GES).
If you fail to be utterly amazed and emotional about what I've just shown here, I'll make sure to explain properly the jawdropping significance of this cleanup (and the whole GES port in general), whenever I get a chance to make a talk at some hip conference.
Stuff I've been doing in general in the last three weeks:
Fixed a couple of GES integration bugs in Pitivi. There's still lots of work to do, but we're getting closer to being able to make a first alpha release for your enjoyment.
Redesigned the clip previewing feature. Instead of showing in the tiny timeline previewer, it now shows in a separate window that tries to show the clip at 1:1 size whenever possible. This window can be dismissed by clicking the close button or clicking anywhere outside the window, so there is no reduction of efficiency compared to the old approach.
Merged, at long last, the power management branch. Pitivi will now inhibit the screensaver when playing and inhibit suspend when rendering.
Make pitivi use Nautilus/Totem's thumbnails. The result is prettier and we don't have to do processing in most cases, which means even faster import/loading times.
Pushed all that goodness to Pitivi's origin (main repository) in a "ges" branch.
Closed over a hundred old PackageKit bug reports on Freedesktop bugzilla. Hughsie should breathe a little bit more easily now.
Finally killed all the spam pages (1000+) and images (500+) on the pitivi wiki, using the DeletePagePermanently Mediawiki extension (had to patch it for 1.17, see the talk page) and a horrible, horrible homemade python script to delete the pages automatically by opening hundreds of tabs in Firefox, accessing the "&action=delete_permanently" URL directly.

The remaining problem is that I haven't found a way to efficiently purge the remaining 800+ fake user accounts yet. Ideas welcome, the UserAdmin extension does not work with anything but Mediawiki 1.16 (and it seems unmaintained).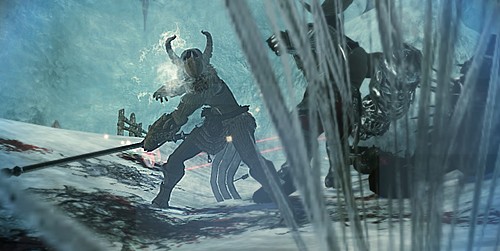 In related news:
At the end of January, I will be attending the GStreamer hackfest in Malaga, Spain. I predict that intense bug squashing will ensue. Come say hi if you're around.