No no no, I said video, Not videos. Seems like even though I spent hours editing and rendering a single recording, I've still beat the GUADEC organizers when it comes to "time to publish" ;)
My "neko edit" also has good sound quality (from a dedicated USB microphone) and high resolution versions of the slides and videos used during the presentation… all in HTML5 video glory.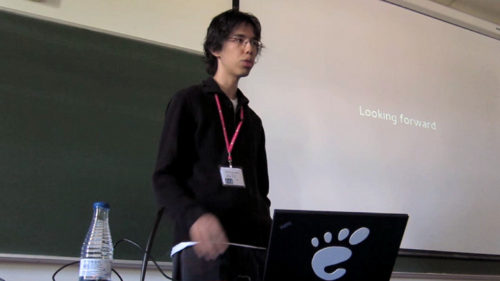 Go watch it on PiTiVi's showcase page. When I said you hadn't truly lived until you've seen it, I was not kidding. Here's what others had to say about it:
I'm thrilled. I just attended a presentation for PiTiVi and the current state of it is delightful. […] This talk tied with Poettering's talk for my favourite.
— Richard Schwarting
There were many great talks but my favorite one was "PiTiVi and the GES: state of the onion" from Jean-François (AKA Jeff). I was actually on my way to another talk that was scheduled at the same time but I caught a glimpse of his "slides" from the door and couldn't resist checking it out first. Once I got into the room, it was hard to leave.
— Zeeshan Ali
Yo, Lennart, I'm really happy for you, I'ma let you finish, but Jeff had one of the best talks of all time! One of the best talks of all time!
— Kanye West
By the way, I'll be presenting GES with Thibault at the GStreamer conference in San Diego in two weeks. That talk will have a more serious tone than the PiTiVi one, but will nonetheless be quite interesting.