I've been meaning to blog about this for months. You may remember me being a fan of SFLphone. Well, turns out that for the past year, I've been using only Empathy to do my VoIP calls. All you need to do is install telepathy-rakia to have SIP support (and then you can use Ctrl+M to start dialing a number). Even though Empathy is not perfect, I like it: it's a standard component of the GNOME desktop, it uses GStreamer and PulseAudio, and it keeps getting better every six months.
Recently, a significant piece of the puzzle has been fully solved in PulseAudio 2.0: real, rock-solid acoustic echo cancelling. Echo cancelling is not to be confused with echo concealment/suppression, which is basically just muting the other person while you're talking (most phones and software applications—including Skype—do that, and it sucks).
As Christian nicely summarized, audio/video calls over the past few years have been a complex story. Unless you are close to GStreamer and Telepathy developers, it's hard to see the big picture. Christian's blog post is thus helpful, but I think it does not truly express how mindboggingly awesome this feature is, from a "What? Computers can do that? With Free Software?!" perspective.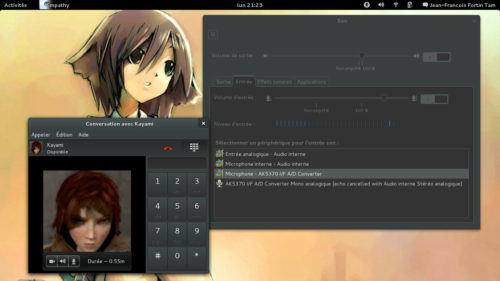 Let me put it this way: I unplugged the headphones, called my laptop, put it into the garage, closed the door and went back to the previous room with the phone. I spoke, and I thought it was broken because the echo cancellation was working too well. I could not hear myself nor any audio artifacts. When I fetched someone else to go speak in front of the computer, it turned out that there was simply no echo whatsoever. Jaw on the floor. And that was with the laptop's crappy 1-watt speakers; I then called across the globe to Bangalore, with my trusty USB microphone and 5.1 sound system, and it felt just like the other person was in the same room as me.
It works even if there's ambient noise. The only way to confuse the echo canceller is to be in the same room with both the phone and the laptop. Not likely, unless you like talking to yourself.
Finally, no more fumbling around to pick up a call when your gear is not plugged in. Conference calls the way they were meant to be. Hands-free discussions while cooking or in a car. Holy smokes, we're only missing holograms and flying cars… Folks, you know what to do.