J'aimerais tout simplement saluer le travail de l'équipe de développement derrière GTG, mon logiciel favori (si si, logiciel favori, point final ! Il est essentiel à ma survie).
Pour vous donner le contexte, j'écrivais cette note personnelle dans Tomboy en 2006, suite à la lecture de Getting Things Done: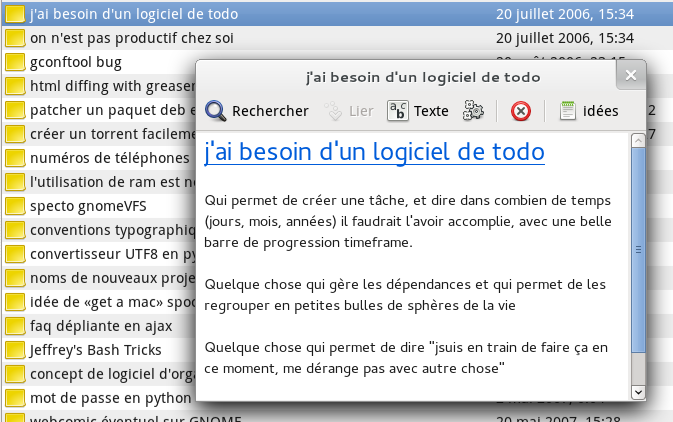 Nostalgie? Tout à fait. Maintenant, retour vers le futur, où ce problème est résolu par GTG.
Avec la version 0.3, GTG vient de se sortir de la pire crise de development de son existence. En effet, la version 0.2.4 datait de 2010 (faisons fi de la version intermédiaire 0.2.9 qui n'a pas vraiment eu le temps d'être reprise par plusieurs distributions Linux). Un très long cycle de réingéniérie—pas qu'un simple réusinage, non mossieur !—s'est effectué entre 0.2.4 et 0.3. Le résultat est une application qui performe mieux, est plus facile à développer et lave plus blanc. Je vous laisse constater les prouesses de la nouvelle mouture. La liste de bugs réglés par la série 0.3 (incluant les améliorations de 0.2.9) est tellement longue qu'elle fait planter Launchpad. Selon mes estimations, le total se situe à environ 400 bugs résolus (excluant les doublons, invalides, etc).
Puisque je suis maintenant un vieux crouton après toutes ces années d'utilisation intensive de 0.2.4 (malgré ses petits défauts), je ne suis pas encore passé à 0.3 sur ma machine principale—j'attends que ça vienne avec ma distribution Linux. Toutefois, selon mes quelques tests, le tout me semble solide. Je vous invite donc, jeunes chenapans, à utiliser cette nouvelle version de toute urgence, et m'en donner des nouvelles.
Évidemment, je vous invite également à contribuer au projet. Ploum et ses comparses vous aideront certainement à vaincre les monstres de l'espace qui pourraient croiser votre chemin.
Branding
strategist and business developer, free & open-source software UX designer and experienced community manager. Has unlimited hi-HP potions to keep teammates alive.
You can check out my
main website
or find me on
G+
or
Twitter
.