Interested in GStreamer, PiTiVi, GES? Meet us in Milan at the end of March for the 2013 GStreamer hackfest! As you can see in this picture from last year's hackfest, it's tons of fun for everybody: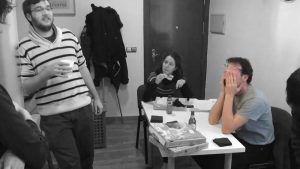 No, really! It's an incredibly productive and motivating event to participate in.
One of the major items we would like to accomplish is to fix GNonLin as much as possible. As you know, the GStreamer 1.x series is a major departure from the 7 years old 0.10 series' design, and GNonLin needs to be rethought for the new world order. The current state of GNonLin makes it impossible for nonlinear audio/video editing applications to behave properly in GStreamer 1.x. This affects Pitivi, Jokosher, Novacut, and perhaps others.
If you want to work on PiTiVi's UI at the hackfest, you are of course welcome to do so. I always have nice projects to play with, such as the need for a new keyframe UI, fixing undo/redo, improving the performance of the thumbnail system, helping Pēteris with the GStreamer waveforms library implementation, or porting the timeline and viewer canvases to Clutter.