If you've tried rendering projects with Pitivi 0.15 or older, chances are you've encountered one of these dreadful situations where the rendering process would get stuck:
…at the beginning, with the progressbar saying it's currently "estimating" — which was a lie that I corrected a little while ago.
…at the very end. Extra trolling points for having made you waste a huge amount of time to get a 0 bytes output file (if we're lucky, that bug is gone).
…somewhere in the middle, because caps negotiation failed, some elements were not linked, GStreamer thinks you ran out of available RAM, or because you've been very naughty.
In any such case, the rendering dialog just sat there and smiled at you, as if everything was fine in the world. Well, no more: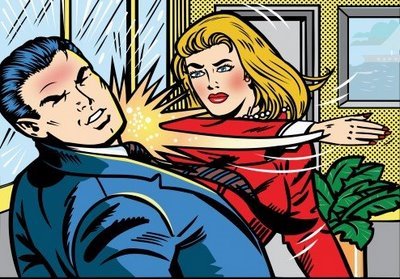 This is the result of a horrifying thought suddenly springing to my mind yesterday night: "Hey, what if the code was not even checking for errors in the pipeline when rendering?"
Indeed, it wasn't. How silly is that! I have thus prepared a simple fix to improve the situation: catch pipeline error messages, abort the render (you really don't want to ignore a GStreamer error) and display an error dialog. This will at least let people know that something is wrong and that they should start writing patches to GStreamer instead of accusing Pitivi of hurting kittens. You'd be surprised how many people can sit for hours in front of that stuck progressbar.
Before I commit the fix however, I would need your feedback on the usability of that dialog: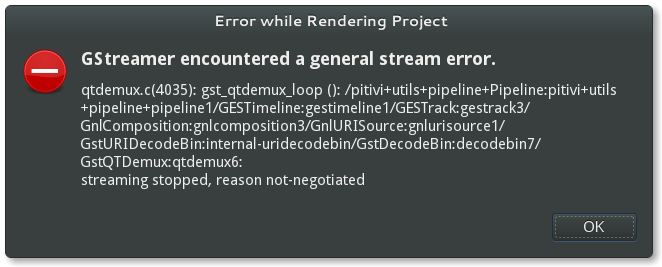 This is not terribly pretty, but it's better than nothing. A few things to consider:
In that screenshot, all the text except the window title ("Error While Rendering Project") comes from the GStreamer pipeline error message (the error and the error's details). I know that the error details look ugly, but I suspect it wouldn't be useful to GStreamer/Pitivi developers if we don't have them "verbatim". Maybe we could try to mangle the error details string (split using ":" and take only the first and last two items of the resulting list?) and encourage the user to run from a terminal to get better debug info, but that feels a bit backwards.
We should probably have some less-scary text to accompany the actual error details. Something that guides the user towards an action that can be done to address the problem (ex: reporting a bug). Maybe it can be placed between the header and the details (above the "qtdemux.c" line)? The problem is finding a universal text to be used.
If we consider the route where we suggest the user to report bugs, where should we point to? The Pitivi bugs investigation page? Pitivi bugzilla? GStreamer bugzilla? The distro's bug tracker?
Let's keep this simple, both visually and in terms of code/implementation.
What do you think? Is the current approach sufficient or is there something better that we can easily do?
Update: here's an alternative dialog with some more comprehensible text, where the actual error (as seen in the previous screenshot) gets shoved under the rug by putting it in a GTK expander widget (clicking "Details" reveals the error's details as above):