I'm very happy with how GNOME 3.8 is running on my newly installed Fedora 19 machine:
Finally, thanks to the new privacy settings, I don't have to care about the trash anymore. Though that's arguably a bit less noticeable now that hard drives are 2 terabytes – it's very hard for me to fill that kind of capacity even if you never empty the trash.
Everything feels snappier and lighter on the GPU. I suspect it was Owen's work [1] [2] with Clutter and compositor frame timing? Or were there also changes in X? GTK? The shell? Thanks to whoever did this. I'm really thrilled at the prospect of a Wayland-based GNOME by default. I'm fed up with our current stack (and so should you).
At last, searching in the shell doesn't feel like running through a swamp with 100 kg weights attached to each thigh.
Evince now searches pretty fast and doesn't lag even when searching through my torture test (a 35 MB, 5219 pages document…). Though that might also be a side-effect of having some insanely more powerful computers these days compared to when I initially filed a bug about it in 2008. Also, Evince finally had a UI overhaul. I find it pretty sleek.
No need for the GNOME Shell "native window placement" extension anymore. The new proportional window sizing & placement algorithm for the overview mode is what I've been waiting for.
The GNOME initial setup assistant (on first login) is very sleek. Also, it now offers you an "in your face" introductory video and quickstart guide, pretty cool (except the video's aspect ratio shows up wrong on 4:3 screens). Somebody took my suggestions to heart it seems :)
GNOME Disks keeps impressing me with each new version. Such a great app. Fantastic user experience and reliability. It is also now my official way to easily create liveusb sticks that work everywhere (using the "Restore Disk Image…" gear menu item).
I've heard rumors of Evolution 3.8 being much more solid. We'll see after extended use. I'm already happy about the fact that it properly handles HTML email background colors even with dark themes now.
Rhythmbox had some pretty bold UI design changes. A bit surprising at first, but the changes seem to make sense (and there are some bugs [1] [2] [3] but that's life). To put things in perspective, it's not as drastically minimalist as my own music player that I hacked together with a few lines of Python as a proof of concept :)
The GTK file chooser finally remembers the position of its sidebar! You have no idea how much things that don't remember their position/size annoy me in general.

Next up on the list of biggest annoyances: filechooser icon view with thumbnails. Do you know C? Feel like helping our pal Federico fix the GTK issue with the most highly visible impact on user experience of the whole ecosystem? You know what to do.
Shameless plug for pixel pushers living on the edge of GTK lands: can you take a look at this proposed icon patch and see if it works for you?
TL;DR: GNOME 3.8 is like a much needed breath of fresh air. Me gusta.
Now if someone has an explanation for this visual glitch that occurs specifically only with gnome-control-center and the (rather new and immature) radeonsi driver… I'm not even sure what (and where) to file this bug on: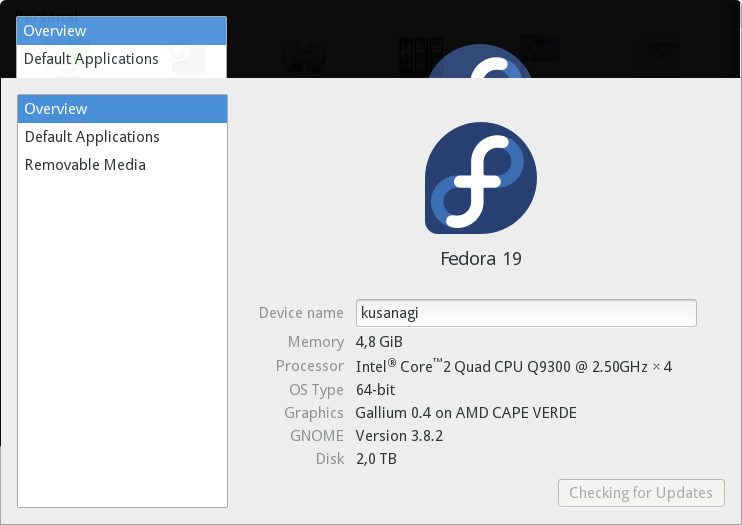 Branding
strategist and business developer, free & open-source software UX designer and experienced community manager. Has unlimited hi-HP potions to keep teammates alive.
You can check out my
main website
or find me on
G+
or
Twitter
.