I've been happily using various pieces of software over the last five years (especially nautilus-cd-burner and K3B) to burn ISO images, create data DVDs, etc. I've come to rely on that kind of stuff to work and keep working.
Not in Ubuntu 10.04. For some reason, I have been unable to burn a single data DVD tonight.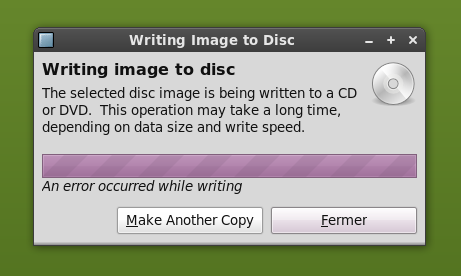 Let's see:
I tried dumping one or two files into a blank data project in Brasero, putting a blank DVD+R in and hitting the Burn button. It seemed to work, then failed a few seconds after starting the burn process and dumped a truncated error log (not very helpful, but available further down below).
Cursing the good name of Brasero, I promptly uninstalled it and put nautilus-cd-burner back in place, expecting it to do the job where Brasero had left off (Brasero was at least able to create an ISO image). And there came the surprise. Nautilus didn't work either. That's news to me. Wait a second. I remember K3B not working either lately. Uh oh.
I then tried from the command line, with the following command: growisofs -dvd-compat -Z /dev/sr0=GITS.iso


This worked with a (freshly blanked) DVD+RW.
…and then when I attempted the very same command with a DVD+R, it failed.
Is it growisofs' fault? cdrecord? The kernel? Some other thing? There are so many pieces of software in the Linux CD/DVD burning ecosystem that it's a maze for a non-connaisseur to figure out. And somehow, this is not very encouraging:


For the record, my computer is a Dell Inspiron 530n (ubuntu-certified desktop machine that has worked flawlessly so far) with an Optiarc DVD±RW AD-7200S. My Sony accucore DVD+R discs are the same ones I have kept purchasing over the years (the most reliable I have found).
Here is Brasero's error log when trying to burn directly from a data DVD project, when trying to burn from a DVD ISO image, and here are my two attempts at using growisofs on the command line (DVD+RW = success, DVD+R = fail).
I'm stumped; I have wasted 3 blank discs and still haven't been able to burn the data I wanted to give to a friend or even figure out why this is happening. Any ideas? Are there many users affected by this, or are we only a handful? Issues like these are hard to justify in an Ubuntu LTS release.
Update (2010 06 07): it seems the problem was Brasero creating incorrect ISO images. Trying to burn an existing ISO image works, so my drive, kernel, cdrkit/wodim/cdrecorder libraries are not to blame.