Back in 2018, when I acquired my legendary ThinkPad X220, I discovered that there is a lady in Ontario, Ms. Chulkova, who does professional battery rebuilding as a side-gig: if you're in Canada (or the USA, to an extent) you can get your laptop (and other power tools) battery cells replaced by new high-quality cells. This is interesting if you have an electric bike or if, like me, you are a luddite who believes that the last great laptop keyboards were produced in 2011 (before the ThinkPad X230/T430/etc.) and that ultrabooks—with their proprietary slim LiPo batteries and general planned obsolescence—are an ecological disaster.
Ms Chulkova's business is called CHANS. She's not paying me to write this (and she never asked me for a review or anything of the sort), I just thought her business was worth mentioning, as I'm not sure it's really a commonly encountered kind of business here.
At 45 CAD (+ shipping cost both ways, 2×15$ for a 1kg package in my case), this battery rebuild service is:
much better quality than no-name cheap chinese replacement batteries;
much less expensive than OEM batteries (which have always been at least 3 to 4 times that price, and might have been sitting on shelves for months at this point), which are not even really sold officially anymore, as far as I can tell any batteries you buy will be third-party aftermarket batteries;
much easier and more time-efficient than sourcing parts and rebuilding a battery myself, especially since she's equipped to do spot welding, has specialized testing equipment, and uses special debugging software to reset the microcontrollers and ensure the batteries work.
I wish there was such a service locally in the Montréal metropolitan area (or even in Québec City) where I could drop off and pick up batteries to be reconditioned to save on shipping, but I didn't find any (let me know if you find one someday).
When CHANS rebuilt my battery, Ms Chulkova mentioned she would use Samsung cells—second in quality only to Panasonic and Rhosgobel rabbits, I would assume—and indeed, the 9 cells I can see, as I opened up my ThinkPad X220's battery, are Samsung-branded: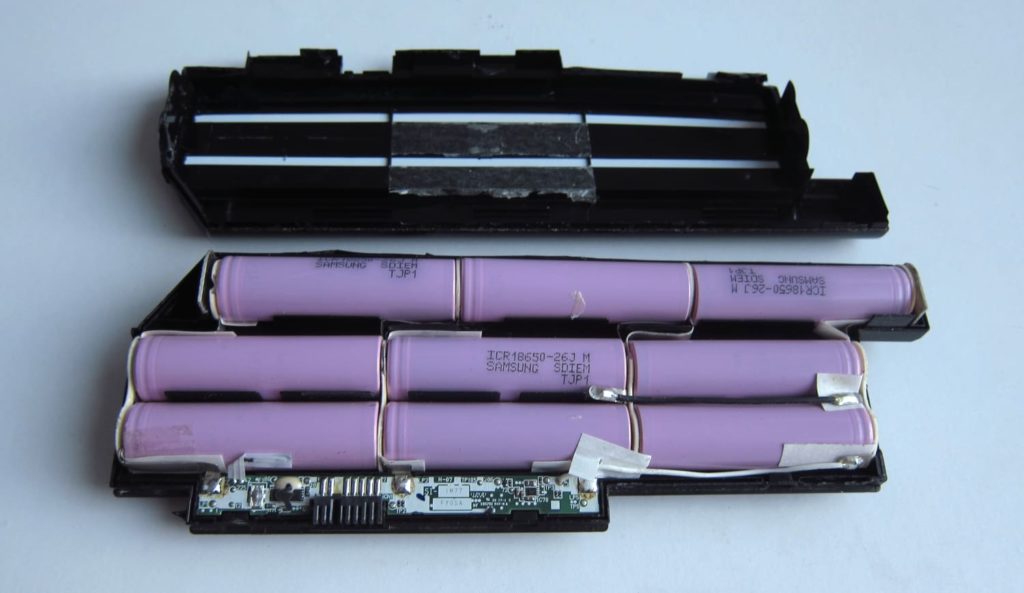 They worked great during the first year at least; I'm unsure what their behavior could have been like in years 2 and 3, because I stopped using the laptop 8 months after having the cells changed (as I picked up an even more exquisite ThinkPad X220T).
I started using the X220 again 2 years later, in the fall of 2021. After a few weeks, the battery died and suddenly wouldn't hold a charge anymore, which is not entirely surprising; I wonder if it is primarily due to ageing (the cells being at least 3 years old at that point) or if sitting on a shelf (unplugged from the computer, at 50% charge) for a year killed them, or perhaps the microcontroller is confused. Or is there a way to easily deplete-recharge them or reset the controller to resurrect them? 🤔
My overall impression is that CHANS Battery Rebuild is good and honest business worth supporting, so if you are in need of getting like-new battery life out of old electronics that use battery cells, consider doing business with them (and let me know how it works for you in the long run). I will probably consider their services again when/if regular travel becomes a thing for me again.
---
2023 update: I have now ordered two more battery rebuilds from them, for a ThinkPad X220's 9-cells battery and a ThinkPad T480's external 6-cells battery, allowing me to finally get rid of the bloated internal battery. My T480 is now unstoppable:

As I tooted, the battery life I get out of my T480, with just a 6-cells battery (I got rid of the proprietary internal battery) is crazy: