My fellow Antistress argued that I should be going back from Chromium to Firefox today. I replied, "Only when it starts up in less than 3 seconds and frees my goddamn memory when closing tabs". He then replied with the following statement:
firefox a la meilleure gestion de la mémoire tous navigateurs confondus (cf tests unanimes sur la toile)
Which roughly translates to:
[Firefox 4] has the best memory management, better than all other web browsers. See the unanimous benchmarks on the web [citation needed], you fascist pig.
Being a good sportsman, I could not turn down the challenge. I had to see for myself, so I downloaded the Firefox 4 Beta 6 and spent two hours comparing it to Chromium 6.0.472.53 (rev 57914, the version available in Ubuntu 10.04's repositories).
Some boring notes/disclaimers
I am not affiliated in any way with either the Chromium or Firefox projects.
To test cold starts, I ran the following command to empty the kernel's disk caches: sync && sync && echo 3 > /proc/sys/vm/drop_caches
I tested startup times on a powerful desktop computer (Dell Inspiron 530n) and a netbook with a cheap solid state drive (Dell Mini 9). I used only the desktop computer for testing memory usage. All tests were run on Ubuntu 10.04 LTS with Linux 2.6.32-24 generic PAE.
All tests were run multiple times to make sure measurements were valid. There is of course some margin of error, but it is slight.
I don't claim to be a memory expert, but I tried to do the tests in the most rigorous and fair way with the means available to me (I even gave Firefox some slight advantages here: blank home page, under-reported memory usage, etc.).

Due to the PITA that is measuring and calculating memory usage over multiple processes, in Chromium I use about:memory. I look at the "Private" column.
The about:memory tab uses memory (around 6 Mib on average), so it is substracted from results.
I usually wait a few minutes before measurements because both browsers need a bit of time to "stabilize".
Startup benchmarks
| | | | | |
| --- | --- | --- | --- | --- |
| | Cold start | Warm start | Mini 9 Cold start | Mini 9 Warm start |
| Firefox 4 beta 6 | 7,35 | 1,69 | 4,61 | 2,92 |
| Chromium 6 (rev 57914) | 6,99 | 0,43 | 2,28 | 1,48 |
Obligatory pretty Gnumeric charts: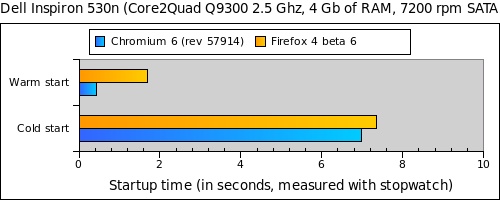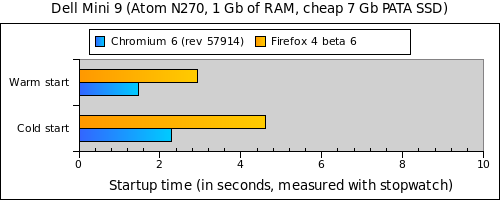 Some interesting things to note here: on the netbook, Firefox's cold start performance improves, while both Chromium and Firefox's warm start performance is lower than on the desktop. I believe this is due to the Atom N270 processor (we're comparing it to a Core2Quad, you know…). This would lead me to think that Firefox's startup is more I/O-bound, and Chromium is mainly CPU-bound (the system monitor applet does indicate a big CPU spike). It would be fun to try this on a Core2Quad with a SSD drive.
All in all, Firefox's startup time has improved considerably these days (I can't start 3.6.10 on my netbook in less than 18 seconds). It would fit the "less than 3 seconds" startup requirement. Not as fast as Chromium, but "good enough". I guess we can pat Firefox on the back.
Memory usage
Let me clarify something: I care about "per-tab" memory usage, but a lot less than what happens after the tab has been closed. I don't care if you consider it a feature, when I close a page, I want my memory back. Now. Otherwise, I will not be able to use it for more than a few hours/days without having to restart the whole application to free my memory. This is what made me leave Firefox. It is a big deal. It trumps everything else (after all, startup time doesn't matter that much if you don't have to restart the app to begin with).
Here, I ran two tests: a "gentle" test using Ubuntu's website, and a "torture" test with Microsoft's website.
The gentle test (measure memory at each step):
Startup (blank page)
Load ubuntu.com
Open ubuntu.com's nine toplevel links in new tabs
Close the 9 tabs
With the remaining tab, go to scholar.google.ca
| | | | | | |
| --- | --- | --- | --- | --- | --- |
| | Startup (blank) | +ubuntu.com | +9 tabs | -9 tabs | ubuntu.com –> scholar.google.ca |
| Firefox 4 beta 6 | 43,9 | 113 | 202,9 | 171,8 | 162,7 |
| Chromium 6 (rev 57914) | 72 | 104 | 174 | 152 | 91 |

We can see that Chromium uses more memory on startup, but consistently beats Firefox afterwards, and basically comes back to the baseline level when you close the 9 tabs. But isn't this test a bit too convenient? Let's be a bit more cruel to Chromium and ask the kings of bloat (Microsoft). Furthermore, let's throw in what Chromium thinks is Firefox's memory usage…
The torture test (measure memory at each step)
Startup (blank page)
Load microsoft.com
Open all the links in the "Products" menu and the "Windows" toplevel menus, in new tabs
Close the 27 tabs
With the remaining tab, go to scholar.google.ca
| | | | | | |
| --- | --- | --- | --- | --- | --- |
| | Startup (blank) | +microsoft.com | +27 tabs | -27 tabs | microsoft.com –> scholar.google.ca |
| Firefox 4 beta 6 | 44,3 | 128,6 | 367 | 239 | 235 |
| Firefox 4 beta 6 (according to Chromium) | 61 | 142 | 394 | 262 | 261 |
| Chromium 6 (rev 57914) | 73 | 108 | 508 | 153 | 91 |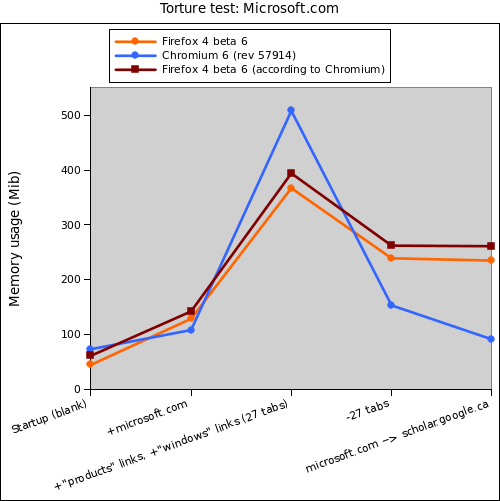 Now, that's quite interesting:
Chromium still requires more memory on startup.
Chromium eats more memory with large amounts of tabs; but if I recall correctly, this has been widely known for years: its 1 tab = 1 process architecture means that each tab has an additional memory overhead.
Chromium still destroys Firefox in terms of fully releasing the memory when you close tabs. It basically goes back to its baseline level, while Firefox sits at four times its baseline.
Interestingly enough, Chromium over-reports Firefox's memory usage (vs gnome-system-monitor). Logically, the inverse could be true: it is possible that g-s-m over-reports Chromium's memory usage. I am giving Firefox an advantage and penalizing Chromium here.
Additional observations:
Firefox takes a long

time before freeing any significant amount memory. I had to wait 2-10 minutes. I guess it's a feature and I'm not using Firefox as intended.

Firefox's GUI gets sluggish when you quickly open (or close) tabs. Chromium doesn't suffer from this. This is perceptual and is somewhat outside the scope of my benchmarks.
Conclusion
Firefox has improved a lot, but it still fails at giving me back all my memory when I close tabs. I cannot trust this. Feel free to tell me that my understanding of "how RAM usage should work" is completely wrong. I kind-of hope I'm very wrong.