There was something bothering me with Evolution in GNOME 3 that I couldn't quite put my finger on. Turns out it was Cantarell, the official font for GNOME 3. While both the Droid family (Droid Sans/Serif/Mono) and Cantarell were "designed for on-screen reading", I find Droid Sans to be much better than Cantarell for small font sizes.
Don't get me wrong: I find that Cantarell is beautiful for slide presentations and printed documents (how ironic) and I use it in various places. However, consider the following two screenshots of Evolution. If you have trouble seeing the difference, download the two images below, open one of them with Eye of GNOME and switch between the two with the arrow keys. It's stunning.
With Cantarell (default):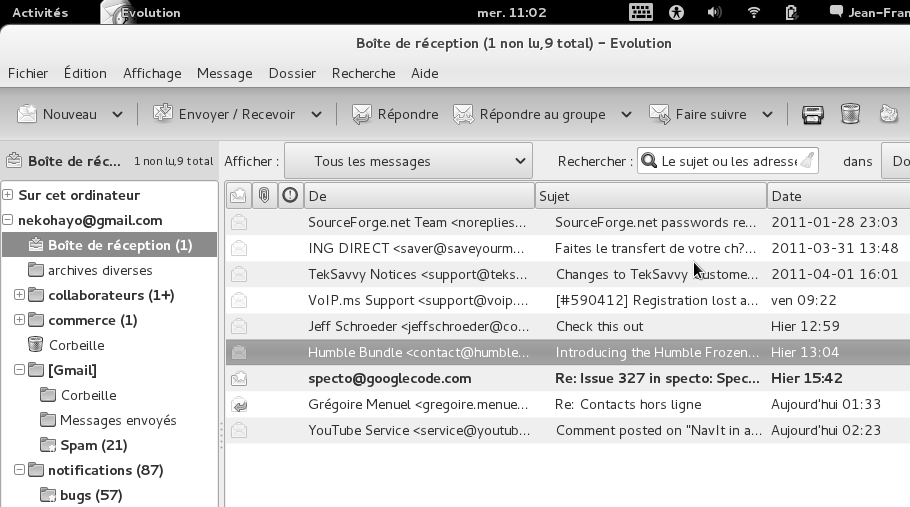 With Droid Sans: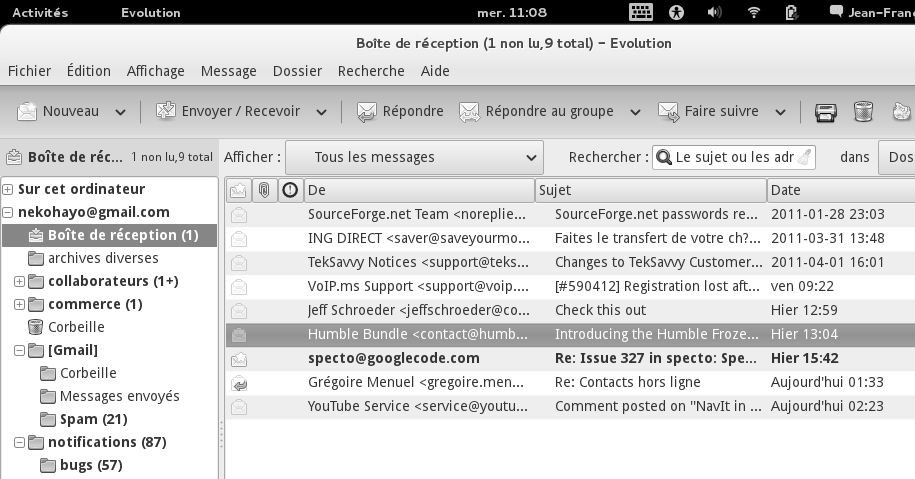 Doesn't the second one look much cleaner, clearer and "professional"? Or am I just too used to Droid and Liberation? (I did not include a screenshot of Liberation Sans, because the result is very similar to Droid Sans and I wanted to keep it simple)
Font geeks might show up and tell me that Cantarell is vastly superior and that Droid is crap because of this and that artistic touch; that doesn't matter to me at this point: I stare at my screen all day and have to visually scan tons of information in constrained space (such as this listview widget) and I just want my fonts to be legible. Without being a font connaisseur, I can identify some of the things annoy me with Cantarell, at first glance:
It has a higher difference between uppercase and lowercase letters; the lowercase letters look squished, they have less space
It uses serifs on the lowercase L but doesn't have serifs on the uppercase i
The dots are minuscule
The @ symbol probably needs love
And various other things I can't put my finger on
Not being a font geek myself, it is hard for me to explain why exactly I have such a hard time with it. It somehow just "feels" wrong in some places. With Evolution, Cantarell reminds me of screenshots of people customizing their desktop with grotesque or calligraphic fonts.
Again, I have tremendous respect for the work that Dave Crossland did on Cantarell and I'm not saying this is the new Comic Sans; I'm just openly reflecting on the problems I see as an everyday user of "information-rich interfaces". Maybe Cantarell can be improved in this particular use case.
P.s.: the screenshots are in grayscale because:
For some reason (colord surely), screenshots I take now all have an embedded color profile, which GIMP insists on either "converting" or "keeping as is", neither of which creates the desired result (colors are way off). Why can't the darn thing display as it does in "dumb" apps such as Eye of GNOME, which seems to ignore such profiles and thus renders the colors exactly as they were on my screen? I'm scared to think this might be a feature and that we would be expected to fix the the color profiles of our hardware to take a simple screenshot.
You're supposed to look at the text legibility/font shapes anyway.
It saves bandwidth.