It is fashionable these days, especially for the Slashdot crowd, bloggers, kernel hackers and other people depending on "feature X that has not fully polished", to throw mud at the efforts that have been made towards redesigning the Fedora Linux installer.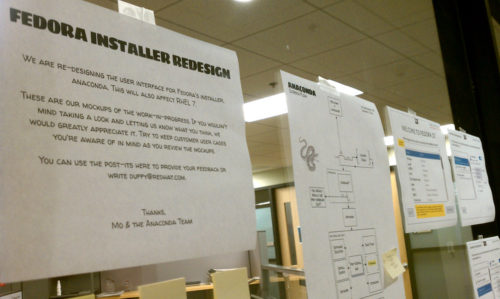 When people trash the work you've been doing fully in the open for over a year and almost nobody stands up to defend you, you have to have a really tough skin. I can afford to read those articles with no ill effects because I have an emotional distance from the matter (not being closely related to the project, except in spirit), but otherwise, you have to swallow tears and quietly breathe fire in lieu of ragequitting, and continue improving your software for the next release. With the side-effects on user expectations from such a long development cycle, you start brainstorming ways to adapt the cycle to prevent such events from occuring again.
And yet, I'm sure there are many who are quietly happy or optimistic about the progress being made. I, for one, would like to focus on one particular aspect where my quality of life improved significantly with the new installer. Thanks to one of my favorite heroines and the hard work of the Anaconda team, the Fedora installer now allows you to set up your system with any keyboard layout supported by X.org. As usual, all it took was a crazy belgian pirate to stir things up.



As I've been waiting for a long time for this, I appreciate the work that has been done towards this goal. I'd like to thank Máirín for the research/followup work she did on the matter to ensure we could all switch to French Canadian Dvorak for F18. Now that is what I call customer service 🙂
By the way, if you care about usability/UX and haven't added Máirín's blog to your feed reader already, do it. Do it now. The posts in the Anaconda category are especially interesting for those who are willing to understand the long and elaborate design process that led to the new Fedora installer.